---
Comment:
Remembering Yoni Netanyahu
"I see with sorrow how a part of the people still clings to hopes of reaching a peaceful settlement with the Arabs. Common sense tells them that the Arabs haven't abandoned their basic aim of destroying the state; but the self-delusion and self-deception that have always plagued the Jews are at work again.
It's our great misfortune.
They want to believe, so they believe. They want not to see, so they shut their eyes. They want not to learn from thousands of years of history, so they distort it. It would be comic if it weren't so tragic." 
-- Lt. Col. Yoni Netanyahu, IDF, 1973
Two weeks ago we remembered the life and accomplishments of an American hero. Today we remember another special person.
This is a time when a big win against terror would be most welcome the world over. That was also true this time in 1976 when the courageous IDF Lt. Col. Yoni Netanyahu  led Israeli special forces to Entebbe, Uganda and rescued 106 airline hostages held there by a group of terrorists that still exists today. The mission was an historic success unrivalled since that time.
What Netanyahu's clandestine operation should remind us is that Israelis and Jews the world over have been the victims of unspeakable terrorist acts for more than six decades. North Americans have endured the same for only a few years.
What stands out about Netanyahu's daring sortie is the impossibility of the task. All seemed hopeless as Tel Aviv was under enormous pressure from around the world to give into the demands of the terrorists who wanted fifty-three of their kind freed from Israeli prisons.
General Dan Shomron knew the terrorists would kill the hostages regardless of what conditions were met. He rightly chose an extraordinary  special operations officer, Yonatan Netanyahu, to lead the mission. 
Shomron told the Israeli Prime Minister that Netanyahu was a courageous man and above all an inspirational leader of his soldiers. If anyone could pull this off, it was Netanyahu.
Netanyahu's mission was an unequivocal success despite costing him his life. He died at the age of thirty aboard an extraction aircraft leaving Uganda. His brother Ben Netanyahu went on to become Prime Minister if Israel. 
Our thoughts this week go to the surviving family members who will once again remember not just the tragic loss of their fearless Yoni but the incredible hope he brought to those who had otherwise lost hope.
Micheal J. O'Brien, Editor
It was Sunday, June 27, 1976, when armed gunmen from the Popular Front for the Liberation of Palestine, together with some German accomplices, hijacked Air France flight 139, diverting it first to Libya and then to dictator Idi Amin's Uganda.
On June 27, 1976, four terrorists forced an Air France Airbus to land in Uganda, in the heart of distant Africa. They quickly demanded that Israel release 53 convicted terrorists. The hijackers freed the French crew and non­Jewish passengers, while retaining 105 Jewish and Israeli hostages. A 48­hour deadline was set before executions would begin.
Faced with little choice, the Israeli government announced that it would enter into negotiations. This bought the precious time needed to consolidate a seemingly impossible military option. A new ultimatum was issued for 13:00 on Sunday, July 4.
The only airplane capable of a rescue operation was the C­130 Hercules. On July 1, the mission's overall commander, Brig. General Dan Shomron (later to become the IDF Chief­of­Staff), presented his plan to the IDF Commander and Israel's Defense Minister. The next day they all witnessed a full­scale dress rehearsal. The incredible was deemed possible.
Shomron's plan was based on several advantages that the Israelis had over the terrorists. The Entebbe airport at which the hostages were being held was built by an Israeli construction firm, which was able to provide Shomron with blueprints. Moreover, the released, non-Jewish hostages were able to describe the terrorists, their arms, and their positioning. As a result, the IDF decided to send in an overwhelmingly powerful force: over 200 of the best soldiers the army had to offer participated in the raid, all of them heavily armed.
Finally, the element of surprise was probably the biggest edge that Israel held. According to Shomron: "You had more than 100 people sitting in a small room, surrounded by terrorists with their fingers on the trigger. They could fire in a fraction of a second. we had to fly seven hours, land safely, drive to the terminal area where the hostages were being held, get inside, and eliminate all the terrorists before any of them could fire." The fact that no one expected the Israelis to take such risks was precisely the reason that they took them.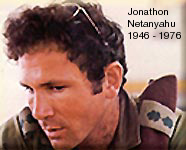 The aircraft took off at 13:20 on July 3 and headed south. Only then was the plan revealed to the Israeli Cabinet, which decided to let the operation continue. The lead Hercules carried the rescue force, led by Lt. Col. Yonatan Netanyahu. (March 13, 1946 in New York City, Netanyahu, known to friends and family as "Yoni," became one of modern Israel's greatest heroes.) It also held two jeeps and the now famous black Mercedes, a perfect copy of dictator Idi Amin's personal car. Two additional Hercules carried reinforcements and troops assigned to carry out special missions, such as destroying the Migs parked nearby. A fourth Hercules was sent to evacuate the hostages.
The air package also included two Boeing 707's. One acted as a forward command post. The second, outfitted as an airborne hospital, landed in nearby Nairobi, Kenya. The Hercules was escorted by F4 Phantoms as far as possible-about one­third the distance.
Skirting thunderstorms over Lake Victoria, the Hercules transports neared the end of the 7­hour, 40­minute flight. A surprise awaited them: the runway lights were on! Despite this, they landed undetected at 23:01 (local time), only one minute past their planned arrival time.
The soldiers freed the hostages in a lightning attack, killing all eight terrorists in the process. Tragically, force commander Yoni Netanyahu was killed as he led the hostages toward the safety of the aircraft; additionally, two hostages were killed in the crossfire inside the airport. The other squads accomplished their missions in virtually the same time as during the "dry­run." By 23:59 the planes were on their way home. The operation, which was predicted to last one hour, in fact took only 58 minutes.
The mission struck a blow at international terrorism. "It resonated far and wide," Shomron later commented. "It showed that you could counter terrorism, and that it was worth cooperating to do so." 
Washington Denounces Slaying of Korean Man
U.S. President Bush said he believes South Korean President Roh Moo-hyun understands the Free World can't "be intimidated by the brutal action of these barbaric people" who murdered a South Korean contractor in Iraq today.
News reports said the South Korean Foreign Ministry confirmed the body of Kim Sun-il was found between Baghdad and Fallujah. An Iraqi militant group kidnapped Kim on June 17.
"What they're trying to do is -- to shake our will and confidence," Bush said about the Iraqi militants after a White House meeting with Hungarian Prime Minister Peter Medgyessy. "They're trying to get us to withdraw from the world so that they can impose their dark vision on people.
"In order to impose their vision, they want us to leave. They want us to cower in the face of their brutal killings," the president noted. He vowed "the United States will not be intimidated by these people, because we believe strongly in freedom and liberty and human rights and human dignity. And I believe President Roh understands that."
The South Korean government had rejected the abductors' earlier demands that it pull its troops out of Iraq to spare Kim's life.
In his meeting with Hungary's Medgyessy, Bush also extended condolences to the family of a Hungarian soldier killed June 17 in Iraq. "I want his folks to know that we will complete our task, and the world will be more peaceful and more free because Iraq will be free and peaceful," Bush said.
He called Medgyessy "a strong leader for Hungary" and "a strong visionary" for the United States and for free and peaceful societies.
"The death of the Hungarian soldier is very painful to all of us," Medgyessy said. "Nevertheless, I could confirm to the president that Hungary's commitment to the presence in Iraq is unchanged." He said his country would continue to "promote stabilization" and that Hungarian troops would remain.
"What's important for the Iraqis to know," Bush said, "is that the world stands with them as a free society emerges." He called Hungary a "great example" of what's possible in a free society that has "rejected totalitarianism and has now welcomed democracy and rule of law and human rights and human dignity."
"It helps to have troops fulfill certain missions as we help rebuild Iraq," Bush said. It's more than just a symbol. These troops are providing a very important role as Iraq emerges from a society run and brutalized by a tyrant to a society in which people are able to realize their hopes and aspirations."
Washington Responds Firmly to "Torture" Allegations
Even facing a different kind of enemy, the United States will continue to adhere to its values, international law and treaty obligations, White House and DoD officials said June 22.
President Bush made the U.S. position on torture very clear during a meeting with Hungarian Prime Minister Peter Medgyessy June 22. "We do not condone torture," Bush said. "I have never ordered torture. I will never order torture. The values of this country are such that torture is not a part of our soul and our being."
DoD officials emphasized that the department embraces processes that are "careful and respectful of human beings." They pointed out that this contrasts greatly with the actions of terrorists who have kidnapped and beheaded their victims.
As the United States captures al Qaeda members and their terrorist allies, White House officials noted, they will be treated humanely, in accordance with the Geneva Conventions even though they are not prisoners of war in the legal sense.
The White House and Pentagon released a series of documents June 22 detailing the U.S. government's examination of the status of the terrorist enemy and how U.S. intelligence experts should deal with them.
"The Department is providing this level of detail," said a DoD release, "realizing that we are still a nation at war and we must be careful in what we disclose to our enemies."
"We face an enemy that lies in the shadows, an enemy that doesn't sign treaties, they don't wear uniforms, an enemy that owes no allegiance to any country, they do not cherish life," said Judge Alberto Gonzalez, the White House Counsel. "(The terrorists are) an enemy that doesn't fight, attack or plan according to accepted laws of war, in particular Geneva Conventions."
American policymakers debated some tough questions even as American service members began catching these terrorists. Gonzalez said they worked to determine the legal status of individuals caught in this battle. They helped determine how the enemy combatants were treated. They also asked to what extent can those detained be questioned to attain information concerning possible future terrorist attacks? What are the rules governing that interrogation and what will U.S. policies be?
The memoranda and letters released detail how the U.S. government arrived at the policy regarding treatment of terrorists. First thing to remember, officials said, is that the terrorists do wish America harm. They killed 3,000 Americans in the attacks of Sept. 11, 2001. They have launched attacks in Bali, Indonesia, Madrid, Istanbul, Pakistan and throughout Iraq.
"As we debated these questions, the president made clear that he was prepared to protect and defend the United States and its citizens, and he would do so vigorously, but as the documents we are releasing today show, that he would do so in a manner consistent with our nation's values and applicable law, including our treaty obligations," Gonzalez said.
Critics who contend that the United States allowed torture against detainees in Guantanamo Bay, Cuba, are wrong, Gonzales said. "All interrogation techniques actually authorized have been carefully vetted, are lawful and do not constitute torture," he said.
Most interrogation procedures military intelligence officials use come straight from the Army's Field Manual 34-52, in use for years. The manual detailing procedures for use against a conventional military foe.
But al Qaeda is not a typical foe, officials said. A manual captured in Afghanistan showed the terrorists were aware of the interrogation procedures and trained to resist those procedures.
During the summer and fall of 2002, intelligence indicated al Qaeda planners had targeted the United States and allied nations, according to DoD officials. Among the detainees at Guantanamo were individuals with close connections to al Qaeda leadership and planning figures. Some detainees possessed information on al Qaeda plans.
In October 2002, officials in Guantanamo requested permission to use additional interrogation techniques for al Qaeda detainees. The request included 20 techniques, officials said.
On Nov. 27, 2002, the DoD general counsel, after a series of discussions recommended that Defense Secretary Donald H. Rumsfeld approve 17 of the techniques. On Dec. 2, 2002, Rumsfeld approved the 17 requests.
According to a DoD news release, "the techniques approved were arranged on a three-tiered system that required approval from different levels of the chain of command before they could be used. A number of the techniques that were approved were never used. These guidelines were in effect from Dec. 2, 2002 until Jan. 15, 2003."
Rumsfeld rescinded the guidance when he learned that some officials had concern about the implementation of the techniques.
"Key to this," said a DoD official, "is that while harsher techniques were approved, they were not used."
Today, a total of 24 techniques are approved for use at Guantanamo. Seventeen of the techniques are straight from the Army field manual. Four techniques require prior approval by Rumsfeld before they can be used.
"No procedures approved for use ordered, authorized, permitted or tolerated torture," said the DoD release. "Individuals who have abused the trust and confidence placed in them will be held accountable.
"There are a number of inquiries that are ongoing to look at specific allegations of abuse, and those investigations will run their course."
The released documents, the DoD news release noted, "are made available to demonstrate" that the department's actions "are bound by law and guided by American values."
Star, Regis Philbin, Meets Bigger Stars at Walter Reed Army Medical Center
It seemed like old home week when television star Regis Philbin walked into the Walter Reed Army Medical Center hospital room of Army Spc. Danielle Green. They'd shot a few hoops together four years ago when Green was a basketball star at Philbin's alma mater, the University of Notre Dame.
Green can't shoot hoops any more -- at least not with the left hand she used to score more than 1,100 points during her Notre Dame career. She lost her hand May 25 when she was hit by an enemy rocket in Iraq.
Philbin, who was visiting wounded service members at Walter Reed June 22, listened intently as Green talked about her nightmare on the roof of an Iraqi police station.
"The rocket hit my hand and damaged my thigh and face," Green said, staring into Philbin's concerned eyes. "It opened up my thigh. I fell down on my right side and laid there thinking, 'Oh, God, I don't want to die. I'm only 27 years old, and I haven't done enough in life.' So I laid there and said, 'I'm not having a lot of pain, and I'm not crying, so I might live to tell my story.'"
Green said she wanted to get up and run, but she realized that if she did, the enemy would probably have killed her with another rocket. "So I stayed there," said Green, who was serving in Iraq with the 571st Military Police Company from Fort Lewis, Wash. "About five minutes later, my team leader came up. He thought I was OK, but I said, 'I'm hurt!' He came over and tears just flowed from his eyes and he screamed for help."
Philbin listened quietly as Green told him that the incident taught her how to be a team player in a sense much different from basketball. "I realize that you have to learn how to trust that person to the left, to the right, to the front and to the rear," she said. "When I was on that rooftop, I was scared that no one would come up there and get me. I thought I'd be lying there for a long time. But five minutes later, they're performing first aid on me."
To Green, "the coolest story" was when her platoon sergeant and platoon leader returned to the roof of the police station to search for her hand.
"They looked for my hand because they wanted to retrieve my wedding rings," Green said, sporting the rings on her right hand as her husband, Willie Byrd, looked on smiling. "They found my hand under seven inches of sand on the roof. They got into trouble because they were not supposed to go back up there."
Looking directly at the television host, Green said her survival may help others. "It's some story, and I'm happy to be alive to tell it," Green said. "Hopefully it will inspire and motivate other people."
When Philbin walked into Army Cpl. Timothy J. Brosnan's room, the corporal was on the phone with his mother, Mercedes Brosnan. "Let me talk to her," the television star said. He chatted with her a bit, then invited her to his upcoming show in Atlantic City, N.J. He didn't get the answer he expected.
"She turned me down," Philbin said, staring at the phone. The corporal's mother can't make it because she has to work that day.
Philbin asked Brosnan how he was wounded. Brosnan said he was in a convoy when an improvised explosive device hit the lead vehicle.
"My vehicle drove past it through the cloud of smoke and pulled forward for security," the corporal said. "Another unit showed up and tried to help." When he and a lieutenant were going to get more stretchers from the lieutenant's vehicle, another bomb exploded, the corporal said. "The lieutenant and me went down, and four other guys got hit," he recalled. "That incident cost us two guys, three wounded, plus their three casualties," said Brosnan, as he sat in a wheelchair. "The lieutenant standing next to me didn't make it."
Philbin asked him why they couldn't see the bombs, and Brosnan explained that they're everywhere along the side of the road camouflaged by trash, and that they can be triggered from cell phones.
"It's hard to see an IED, because there's so much trash everywhere," said Brosnan, who was wounded June 4.
Brosnan told Philbin that the violence doesn't reflect the attitude of most Iraqis. "It's not the majority of the country that doesn't like us," he said. "We get a lot of respect. When my battalion went over there, we adopted an orphanage. At least once or twice a week, we'd go to see the children and bring them food and stuff. We'd spend time with them for four to five hours a day. We'd block the street off and play soccer with the kids.
"The majority of the people want us there," said Brosnan, who joined the Army on May 8, 1994. "It's just that still, certain people don't."
The phone rang and Brosnan said, "It's my girlfriend," and asked her, "You want to say hello to someone?" He handed the phone to Philbin, who said, "I'm listening to the big boy here, and he's telling me all about Iraq." He invited her to join her boyfriend and his mother as guests in the audience at his "Live with Regis and Kelly" show one day.
Army Spc. Patrick Wickens, 21, was pleased when Philbin stopped by his room. "There are not a lot of celebrities who will take time to visit us," he said. Wickens lost his right leg when a mortar round hit him May 15. He said he looks forward to getting out of the hospital and attending computer school.
His mother, Judy Wickens of Denton, Mont., said, "I thought Regis was a sweet man. On TV you think he's just a movie star, but I think he has a very nice personality. He was good to the guys.
"He was good to all of our soldiers by just coming and brighten their lives a little bit," she continued. "A lot of people don't know what these guys are going through here, and Regis seems to connect with them."
Philbin kissed her on the cheek as he was leaving the room. "That kind of shocked me, but it was very sweet," she said. "It touched my heart in a big way. I was kind of stressed yesterday. That kind of brought me back down to God telling me that it's all good. People do care."
Philbin sat down for a short interview after visiting the patients. He pointed out that his son, Daniel Philbin, suggested that he visit patients at Walter Reed. Dan works in the Office of the Assistant Secretary of Defense for Public Affairs.
Regis Philbin said there's no way to fully understand what service members go through in war until you meet them in person. "It's a tremendous sacrifice they've given," he noted. "You read that word (sacrifice) in the paper all the time, but until you see what they've given for their country -- for all of us -- you can't really appreciate it."
He marveled at the spirit the wounded service members showed. "You know, their spirits are so high that you kind of forget that they've been wounded in action," he said. "Some of them are going to have a long stay in the hospital. Some of them are not going to get everything they had going into it. But they're a great morale booster -- just terrific people.
"It's a very sobering experience," he said.
Philbin said he was a Navy supply officer between the Korean and Vietnam wars, "but I'd never seen people who had been wounded in action. I think every citizen in this country should spend some time with people who have gone through this. It gives you a different outlook on what our armed forces are all about -- what our country is all about."
The wounded service members' sense of pride in their comrades and their units amazed him. "And how they would like to get back and be with them again," Philbin said. "It's quite inspiring."
Regis recorded a message for all service members around the world in which he said, "I've just visited some of the folks at Walter Reed Medical Center. I must tell you how impressed I am with their courage and their bravery and their good humor and their good spirits. These are people who have all been injured and wounded in battle.
"It was quite a sobering experience to see them and be with them," he said, "some of them here just two days out of Iraq. God love them. Their spirits are high enough to give you a boost. We're all thinking about you, praying for you and hope you get back here safely real soon."
-- Rudi Williams, American Forces Press Service

---